By Debbie Musser
The Catholic Schools Center of Excellence (CSCOE) is taking a big step forward.
Seven years ago, CSCOE was established to enhance excellence and increase enrollment in the preschool-eighth grade Catholic schools in the Archdiocese of St. Paul and Minneapolis. Now it's expanding to support Catholic schools in the state's other five dioceses — Crookston, Duluth, New Ulm, St. Cloud and Winona-Rochester.
"Thanks to the vision and generosity of Dick Schulze and the Richard M. Schulze Family Foundation, we can bring the 'CSCOE way' to 74 more Catholic schools throughout greater Minnesota," said Brian Ragatz, CSCOE president.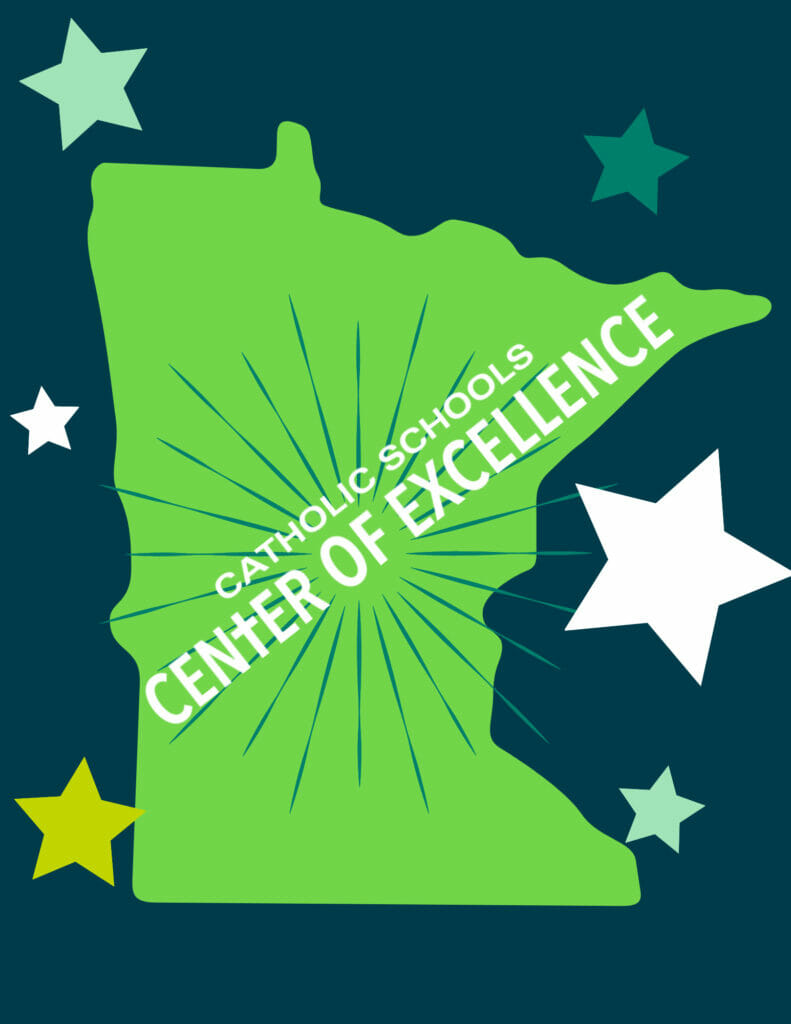 Enhancing excellence with the Schulze Family Foundation
Since 2015, the Schulze Family Foundation has provided CSCOE with more than $35 million to support Catholic schools. The foundation is now investing another $10 million to bring CSCOE's successful programs, services and support to every preschool–eighth grade Catholic school in Minnesota.
Steve Hoeppner, vice president of the Schulze Family FoundatIon, noted that the CSCOE team is upholding the foundation's vision of excellence in Catholic schools by working closely with their principals, pastors, teachers and others.
"We've seen measurable improvement in academic excellence, as well as a level of enrollment growth that hasn't been seen in decades," Hoeppner said. "The foundation's belief is that the work CSCOE is doing can have the same positive impact throughout the state and potentially beyond."
The additional CSCOE support followed the Schulze Family Foundation's outreach to the greater Minnesota Catholic schools in 2021 that included a $25,000 challenge grant for each to assist with enhanced excellence and enrollment growth.
"All 74 schools met their challenges and ended up raising more than $3 million on their own before the Schulze Foundation grants were paid," Hoeppner said. "Our board of trustees decided to invest $10 million to see if CSCOE can help those schools and their communities move the needle to an even greater extent in the areas of excellence and enrollment."
A "one-size-fits-one" approach
During the summer, the CSCOE team hit the road, visiting all the Catholic schools outside of the archdiocese. They met principals, listened and learned about their needs, and toured the schools.
"Each Catholic school is unique, yet they all have the same foundational principles," said Helen Dahlman, a CSCOE consultant.
CSCOE is also connecting principals through its online Principal Hub and its "co-pilot" program with current and recently retired archdiocesan principals. They'll work as a go-to contact for a principal from greater Minnesota throughout the year so they can learn and support one another.
"We'll do what it takes to serve every school with CSCOE authenticity, where we focus on relationships with an opt-in, one-size-fits-one approach that gets results," Ragatz said.
Heather Pfannenstein is principal at Sts. Peter and Paul Catholic School in Richmond and St. Boniface Catholic School in Cold Spring. She's excited about joining others who have the same mission and passion for educational excellence through Catholic schools.
"Partnering with CSCOE will give us new opportunities, new ideas, tried and proven strategies, and more," Pfannestein said. "That ignites a new energy of hope for the present and the future."
Who CSCOE serves
155 preschool-eighth grade Catholic schools and principals across Minnesota
5,000 staff members
35,000 students