By Sharon Wilson, CSCOE Event Manager
Ten Catholic school principals, their spouses and other companions traveled to the Holy Land this summer. The trip, sponsored by a generous CSCOE donor, was an opportunity to see the sites where Jesus taught and deepen their faith to reinvigorate their leadership and schools.
The group saw three to four holy sites a day, including:
Calvary and Jesus' tomb
The region of Caesarea Philippi
The site of the wedding at Cana, where couples renewed their wedding vows
The sea of Galilee
The town of Bethany, home to Mary and Martha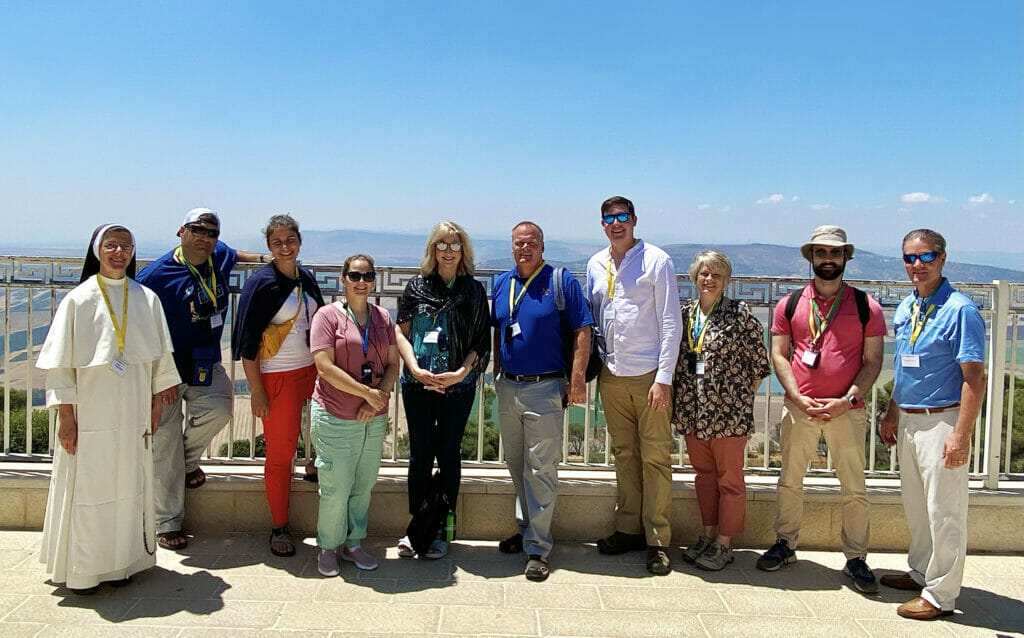 Like Mary, we learned to pray.
The pilgrimage was more than sight-seeing — it was also a spiritual journey that included daily Mass, prayer and reflection.
"Our group became a mirror of the early church: We celebrated the Eucharist together each day; we enjoyed meals together; we encouraged and supported one another; we shared graces; and we laughed and played, all grounded in the one purpose of our being together, which was the Lord's desire that we journey to the very landscapes which he traversed," said Sister Maria Ivana, principal of St. Croix Catholic School in Stillwater.
Each Mass corresponded with the site we visited. In Bethlehem, we celebrated the Mass for Christmas. At the tomb of Jesus, we celebrated the Mass for Easter.
The impact of daily Mass and regular prayer remains long-lasting for participants.
"I feel a deepened desire to pray and read scripture more than I ever did before," said Halle Rogers, wife of Risen Christ Catholic School Principal Mike Rogers.
Like Lazarus, we were healed.
Participants carried their own intentions on the pilgrimage. For me, I carried the grief after the death of my husband. I offered each Mass for him and asked for healing at each site.
The group offered prayers for our families, communities and Catholic schools along the way. Many developed new connections, including two principals who discovered they were praying for the same child battling cancer. These deep friendships will foster greater relationships among our Catholic school principals.
"I was blessed to walk in the footsteps of the Lord, and to do so with so many other wonderful and faithful principals was a true gift," said Justin Shay, principal of Ave Maria Academy in Maple Grove. "As a new principal, I feel like I have a great new community of support. I know that this will continue to be a wonderful fruit of this pilgrimage."

Like Martha, we learned to serve.
Back at home, the principals are beginning the school year with renewed excitement for their faith. Many are sharing their experiences within their school communities by speaking about the places they traveled and preparing presentations to share with staff and students.
Others have become bolder about sharing their faith with staff and adding more time for prayer during the workday.
"I feel better equipped to talk about the life of Jesus, being able to visualize many of the places that we talk about in Scripture," said James Morehead, principal of St. Peter's Catholic School in Forest Lake.
A renewed commitment to prayer, service and faith will continue to benefit not only Catholic school leaders, but also their entire school communities.
Our generous donor gifted every Catholic grade-school principal in the Archdiocese of St. Paul and Minneapolis a pilgrimage to either the Holy Land or Rome, so we're excited to host more pilgrimages in 2023!